Specialising in the publication of carp fishing books, Freebird Publishing was set up by angling writer and author Keith Jenkins with his wife Linda in 2008.
To date Freebird have published over a dozen carp books by angling legends such as Pete Springate, Steve Briggs, Ian 'Chilly' Chillcott, Clive Williams and Keith Jenkins himself.
And it's not just the angling legends that are the main feature of books published by Freebird, the legendary carp fisheries such as Horton, Wraysbury and Savay also have books dedicated to them.
All of the books published by Freebird are available to purchase on this website and by visiting the site regularly or signing up for our newsletter, you'll be able to keep up to date with the new books we are working on.
WINDING DOWN
As I said in a recent post, we're winding down things at Freebird to concentrate on family for the foreseeable future. To that effect, we have reduced the prices of all of our books and are now getting down to the bare bones.
The only books we h...

Get the Freebird Newsletter:

Full Name:

Email: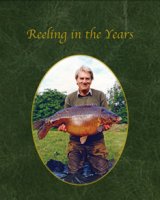 Reeling in the Years
By Harry Haskell
HARRY LIFTS THE LID, AND REVEALS...For those of you who have read Harry's ...